Physiotherapist – Jennifer Porch – BappSC (PHTY) Post Grad Cert (Continence & Pelvic Floor Rehabilitation)
Jennifer has more than 15 years experience treating men and women with pelvic floor dysfunction.
She has a special interest in behavioural training and biofeedback relating to managing faecal incontinence and constipation.
The majority of clients report significant improvement with 3-6 sessions (on average) over a period of a few months. I look forward to assisting you in caring for your clients.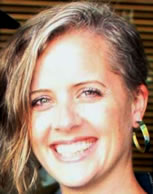 Physiotherapist – Robyn Brennen – Special Interest in Continence and Women's Health, MPhys, BPhys(Hons), BMid
Robyn is an experienced physiotherapist who has been working in the field of continence for 15 years. A passionate advocate for access to quality health care for all people, she also works at the Monash Health Community Continence Service and is undertaking her PhD in 'Pelvic floor dysfunction after gynaecological cancer' at Monash University.