The Digestive Health Centre – Australia's first independent day endoscopy centre celebrates 40 years 
As a long standing health provider for people in the south eastern suburbs, the Digestive Health Centre is celebrating a momentous occasion – 40 years in Private Day Endoscopy.On Saturday 27th May, the centre celebrated this milestone in style at Mon Bijou at The Adelphi Hotel. It was an occasion enjoyed by referring doctors, staff and members of the community involved with the centre. The CEO Ms Chris Park gave thanks to the referring practitioner's "Your continuing loyalty has contributed towards us remaining in business for 4 decades."
The Centre was established in 1977 by Dr John Goy and was the first free standing day procedure centre in Australia. Prior to this time endoscopy was only available in Public hospitals. In 1980 open access referrals from GP's commenced, the future of endoscopy changed forever.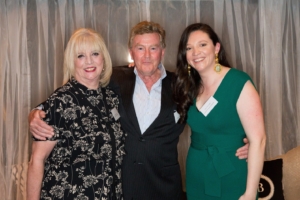 Dr John Goy, the founder, retired as a director in 2010 and then from medicine on March 31st 2011. There are currently three directors – Dr David Rubinstein since 1998, Dr Wayne Friedman since 2001 and Dr Malcolm Barnes since 2008. They all play an active role in the organisation. The Digestive Health Centre also three associate adult gastroenterologists and two paediatric gastroenterologists that are a part of the team. The centre has an ever expanding Allied Health team to compliment the services offered by their Physicians.
The centre provides a comprehensive digestive health service for the diagnosis and treatment of gastroenterological disorders. An urgent elective consultation and endoscopy service is available each day for patients, local general practitioners and specialists.
Our mission is to improve the health of the people in the community by preventing and managing digestive illness.  The Centre's community encompasses a diverse range of languages and so patient information is available in the six most common languages used locally.The centre prides itself on providing a high standard of care and since 1977 The Digestive Health Centre has performed more than 125,000 diagnostic and therapeutic Gastroscopy and Colonoscopy procedures.
In 1988 Dandenong Private Endoscopy was officially registered as a Private Day Hospital and was opened by Mr Terry Norris MP. Growth continued and a licence for two procedural rooms with 10 recovery beds was obtained. A new purpose built endoscopy day hospital was opened in August 1992 by the then Minister for Health, Maureen Lister.  In May 2003, The Hon. Daniel Andrews opened the most recent extension to 90 David Street, which houses consulting rooms and administration areas.
Our centre continues to provide comprehensive digestive health services to the south eastern corridor. It is both an honour and a privilege to care for our patients, and we always aim to exceed the expectations of both our patients and our referring doctors. As Australia's first independent day endoscopy centre we endeavour to remain one of the best-in-class.