[fusion_builder_container hundred_percent="yes" overflow="visible"][fusion_builder_row][fusion_builder_column type="1_1″ background_position="left top" background_color="" border_size="" border_color="" border_style="solid" spacing="yes" background_image="" background_repeat="no-repeat" padding="" margin_top="0px" margin_bottom="0px" class="" id="" animation_type="" animation_speed="0.3″ animation_direction="left" hide_on_mobile="no" center_content="no" min_height="none"][fusion_title size="1″ content_align="left" style_type="single solid" sep_color="" class="" id=""]Quality and Safety[/fusion_title]The Digestive Health Centre is committed to Quality and Safety and to providing the Best Possible Digestive Health Care.  This is documented in our Quality Policy  and our Child Safe Policy.
The Digestive Health Centre voluntarily participates in Certification through ISO 9001 : 2016.
ISO Certification ensure the very Highest Quality is maintained and independently audited to meet internationally recognised standards.  JAS-ANZ accreditation demonstrates that we are meeting the highest levels of professionalism.
The Digestive Health Centre has a comprehensive infection prevention and control program in place.  Our facility and staff are regularly audited for compliance with the National Infection Prevention and Control Standards for reprocessing of reusable instruments and the Australian Commission of Safety and Quality in Healthcare (ACSQHC) National Safety and Quality Health Services Standards (NSQHS).
The Digestive Health Centre underwent re-certification in October 2015 and proudly holds full certification with ISO 9001:2016 and all 10 Standards in the National Safety and Quality Health Services Standards (NSQHS).
[fusion_imageframe lightbox="no" style_type="none" bordercolor="" bordersize="0px" stylecolor="" align="none" link="" linktarget="_self" animation_type="0″ animation_direction="down" animation_speed="0.1″ class="" id=""]
[/fusion_imageframe]In striving for continual improvement, safety and quality key performance indicators are collected and compared with like organisations.If you would like to view this data contact the CEO at this Centre.
Detailed information specific to consumers, on the way in which we manage our Safety and Quality is available under the Patient Information section
A GENCA instructional video on how to clean gastroscopes and colonoscopes can be found at
http://www.genca.org/public/5/files/Whiteley%20Genca%2030%20Second.mp4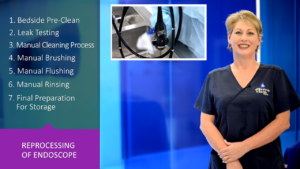 Our Director of Nursing, Michele Van Harten showcases endoscope cleaning for GENCA
[/fusion_builder_column][/fusion_builder_row][/fusion_builder_container]